Sustainability Report
2021 SUSTAINABILITY REPORT
Our 2021 Sustainability Report provides an enterprise-wide overview of Hillenbrand's approach to sustainability. This year's report was published as part of Hillenbrand's commitments as a signatory to the United Nations Global Compact and includes alignment to the United Nations Sustainable Development Goals, the GRI Standards from the Global Reporting Initiative, and Sustainability Accounting Standards Board (SASB) framework, and the Company's Purpose. We are proud to highlight Hillenbrand's continued commitment to advancing sustainability, providing a safe environment for employees, applying responsible business practices, and contributing to communities.
PREVIOUS SUSTAINABILITY REPORTS
---
OUR COMMITMENT TO SUSTAINABILITY
Hillenbrand is committed to being a company where the positive impacts of our people, products, and partnerships help better the environments in which we operate. This includes focusing on meeting the needs of the present while making improvements for future generations, and using our position to drive change and positively impact the world around us. Highlights in this year's report include:
• First-time disclosure of the Company's largest manufacturing sites' Scope 1 and 2 energy emissions and its recently standardized energy reduction strategy
• Embedding Environmental, Social and Governance (ESG) topics into Hillenbrand's Enterprise Risk Management (ERM) process to help the Company better understand long-term risks, climate change and other topics around sustainability
• Increased focus on Diversity, Equity, and Inclusion practices by establishing Business Resource Groups, key partnerships, and embedding DEI into our larger partnership strategy to better align to our future workforce.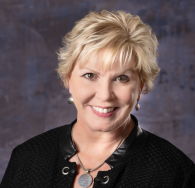 "At Hillenbrand, we unite to be our best to serve our customers, associates, shareholders, and communities by incorporating one another's individuality and ideas. By listening and acting with respect, embracing that individuality, and trusting in each other's strengths, we create an environment where all associates can thrive. Our strategy is steeped in collaboration, inclusion, and accountability. That is why I am committed to embedding Diversity, Equity, and Inclusion (DEI) in our internal operations, in our external business activities, and among our many partners and stakeholders." - Kim Ryan, President & CEO. Read the full commitment.
How we Think about Sustainability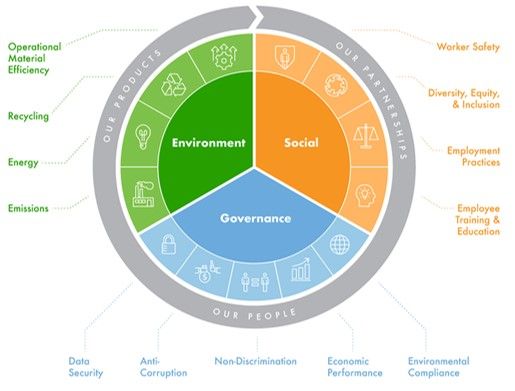 We are still in the primary stages of our sustainability evolution. Our Sustainability Model (pictured, left) incorporates all the topics our stakeholders deemed material (identified through a materiality assessment), with the addition of energy and emissions.
We have mapped these topics into the ESG categories to clearly communicate to stakeholders our focus. The outer gray ribbon, our people, products and partnerships, are what helps us accomplish the work we have ahead of us in these areas.
We know that sustainability has the potential to create return for our shareholders, value for our customers, development opportunities for our employees, and improvements to the communities in which we operate.

HISTORY OF OUR COMMITMENT
In September 2019, Hillenbrand publicly committed to advancing sustainability and addressing topics of material importance to stakeholders and our own Core Values by signing onto the United Nations Global Compact (UNGC). Key milestones on our journey are noted below.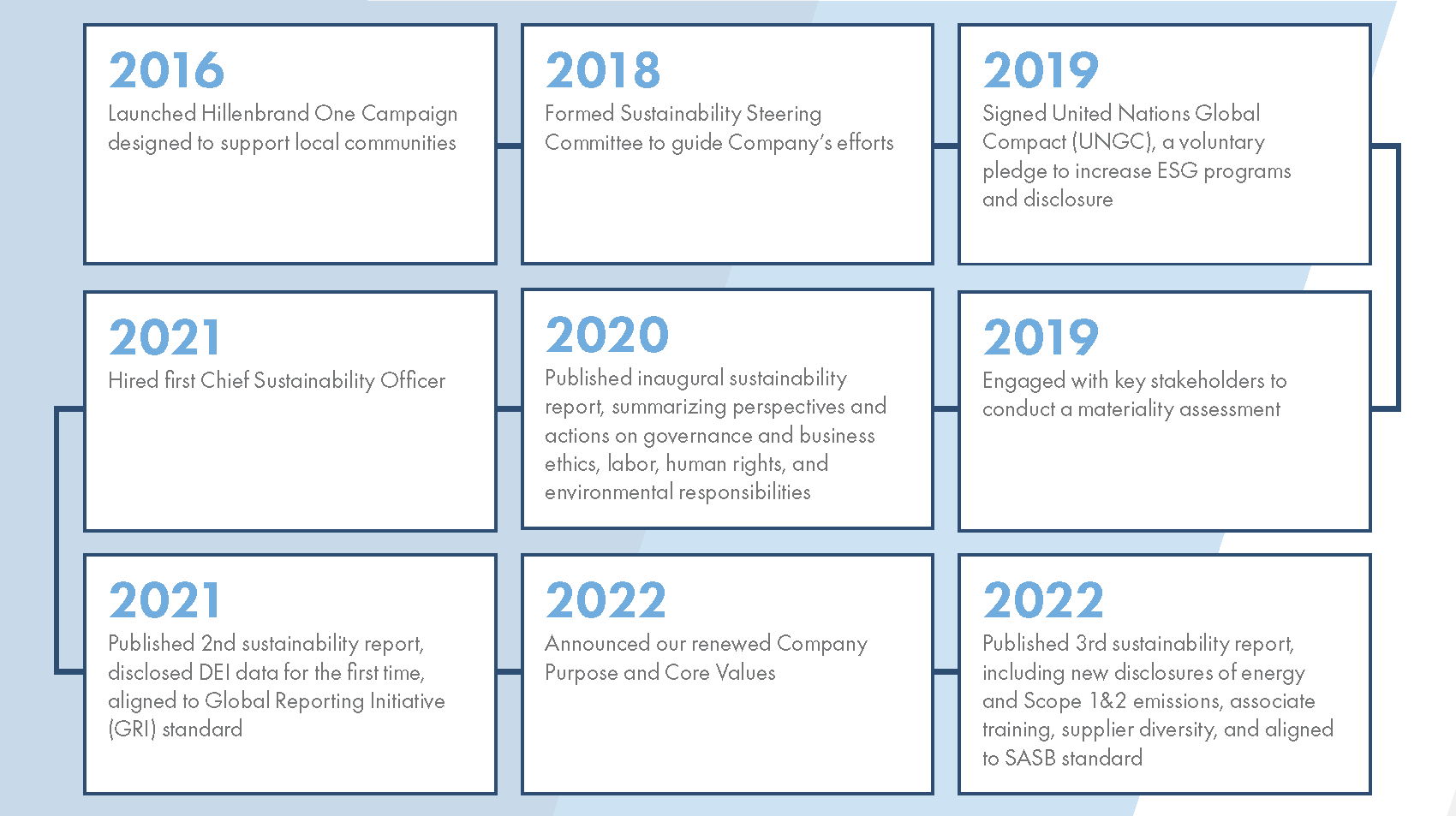 "Sustainability is not just reporting data; it is knowing how to use that data to solve some of the most pressing challenges of our time. While we were primarily focused on our own operations in 2021, we are gradually expanding outside our operational boundaries into ongoing partnerships with non-profit organizations, suppliers, and customers. These practices and more will continue to grow as we do." – Tory Flynn, Chief Sustainability Officer
OVERSIGHT
The Nominating/Corporate Governance Committee (NCGC) of our Board of Directors is composed of each of our independent directors and is responsible for approving our overall sustainability strategy. Our Sustainability Steering Committee (SSC) is composed of executive leaders who are responsible for establishing our sustainability strategy and presenting it to the NCGC for approval. Our ESG Council is a working group overseeing the three key areas: E, S, and G. The Council is responsible for driving the execution of the sustainability strategy through working groups closely connected to our businesses, which implement standards, KPIs, and strategy across our operations.