Driving Change
Driving Change
Hillenbrand is committed to being a company where the positive impacts of our people, products, and partnerships help better the environments in which we operate. This includes focusing on meeting the needs of the present while making improvements for future generations and using our position to drive change and positively impact the world around us. In September 2019, Hillenbrand publicly committed to advancing sustainability and addressing topics of material importance to stakeholders and our own core values by signing onto the United Nations Global Compact (UNGC), the world's largest corporate sustainability initiative.

By signing the UNGC, Hillenbrand is also committing to act in support of UN goals and issues embodied in the Sustainable Development Goals (SDGs), with an emphasis on supporting the SDGs through collaboration and innovation and is pledging to continue working to improve alignment of business strategies to universally accepted principles in the areas of human rights, labor, environment and anti-corruption. Joining the UNGC as a participant and officially announcing our support of these principles represents one of the first formal steps on our sustainability journey. We believe that considering sustainability in our business efforts has the potential to improve all aspects of our company including our social and environmental impacts.
Oversight
The Nominating/Corporate Governance Committee of our Board of Directors oversees Hillenbrand's sustainability and corporate social responsibility policies, objectives, practices, and progress. The leaders responsible for environmental, social and corporate governance efforts make regular presentations to the committee about the Company's execution on strategy in these areas. At the Board's request, in 2018 Hillenbrand created a Sustainability Steering Committee consisting of associates from our corporate center and operating companies, to help guide the Company's sustainability efforts.
Our Core Values

Hillenbrand's corporate culture is built on five Core Values, the first being individual worth and integrity. It is crucial to the success of our company that we align ourselves and our operation with these core values.
"We're proud to publicly commit to making the Global Compact an integral part of Hillenbrand's sustainability strategy." - Joe Raver, President & CEO
Supporting Policies
As a global diversified industrial company, we are committed to pursuing a leadership role and fulfilling our duty to improve the social and environmental impacts of our activities. Our strategy includes adopting policies that advance Hillenbrand's support of the environment and human rights of the people who live in it.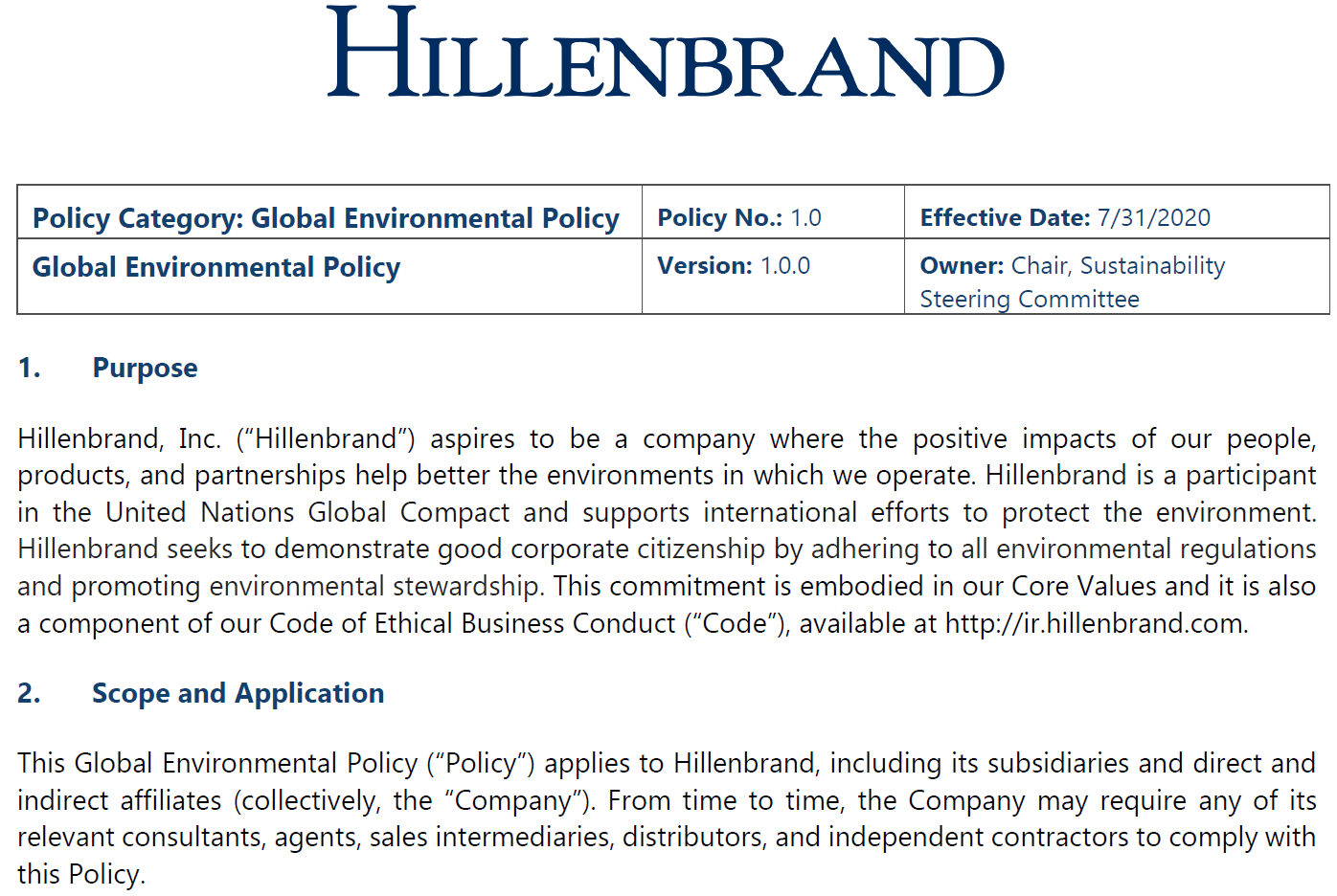 Global Environmental Policy
Hillenbrand's Board of Directors is responsible for supervising the overall management of the company in accordance with the requirements of Indiana and other applicable law and for overseeing the company's exposures to risks, including environmental risks. On a quarterly basis, management undertakes an enterprise risk management process, presenting the results to the Board of Directors at least annually. As part of our efforts to minimize risk across Hillenbrand and to uphold the environmental commitments outlined in our Code of Ethical Business Conduct (Code), Hillenbrand committed, through the adoption of a Global Environmental Policy in July 2020, to adhere to all environmental regulations and promote environmental stewardship.
Hillenbrand's plans in adopting this policy include sharing and cooperating in best practices across operating companies, promoting the purchase and use of recycled materials, and making environmental considerations a priority in our business planning and manufacturing processes.
Several of our operating companies already use environmental management systems, and certain Milacron Injection Molding & Extrusion locations have earned and maintained their ISO 14001 certifications. These actions affirm our commitment to support environmental programs at our operating companies.
Human Rights Policy
One of the Core Values at the center of the Hillenbrand culture is Individual Worth & Integrity. This is outlined in our Code, and we hold our employees and any person or company in our supply chain accountable to meeting our high standards and expectations.
As a global company, we support international efforts to promote and protect human rights and do not tolerate abuse of human rights in our operations or in our supply chain. The Human Rights Policy adopted in July 2020 outlines our responsibilities and expectations in the following areas:
• Slavery, Forced Labor, Child Labor, & Human Trafficking
• Respect in the Workplace
• Compensation & Working Hours
• Health and Safety
• Collective Bargaining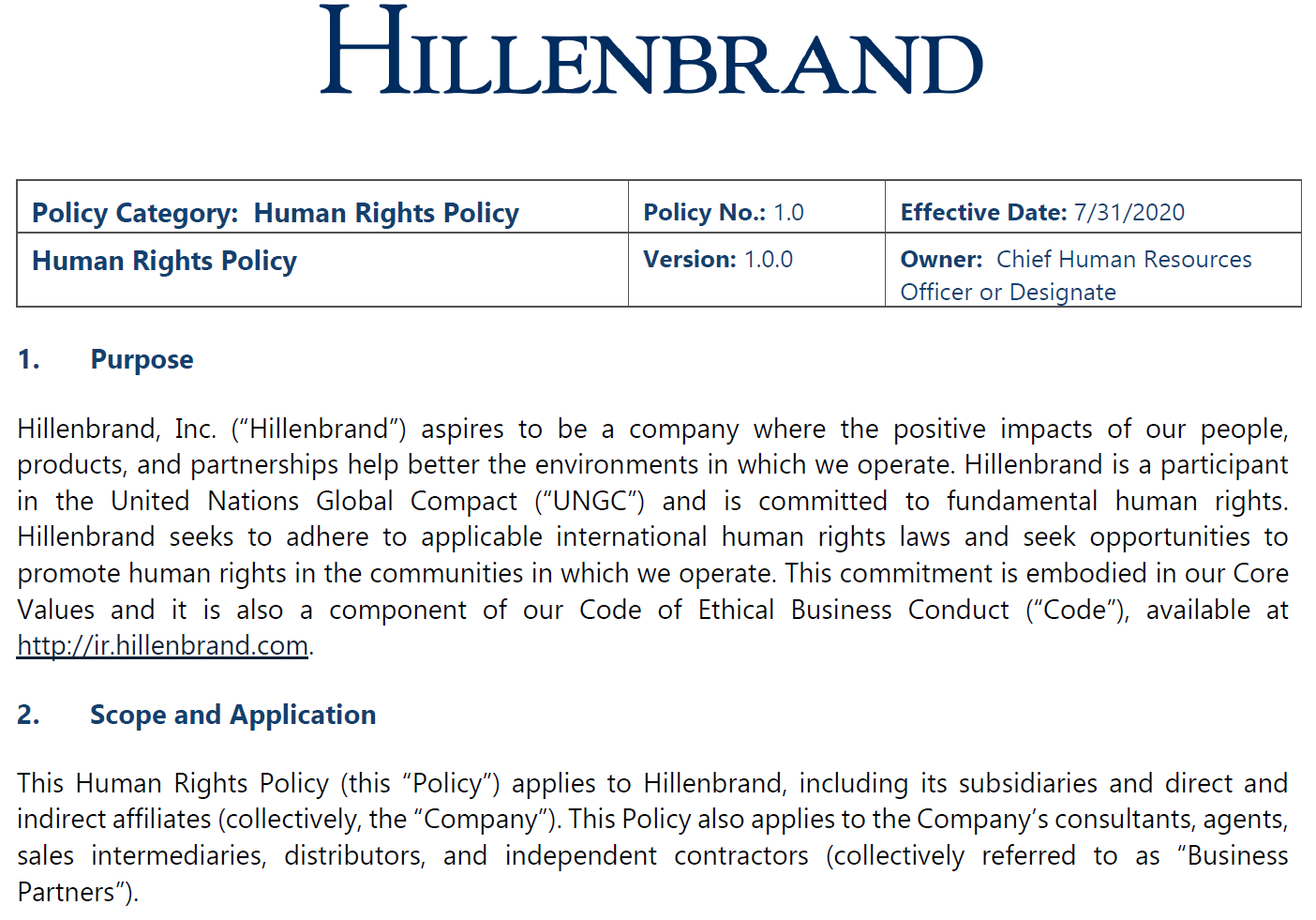 The Company is committed to respecting the principles of internationally recognized human rights, adhering to applicable international human rights laws and finding opportunities to promote human rights in the communities in which we operate. Our employees, business partners, and the public can report suspected Code, policy, or legal violations confidentially and anonymously, where allowed by law. Copies of the Global Environmental and Human Rights policies are available on Hillenbrand's investor relations website.
2019 Sustainability Report
In our inaugural sustainability report, we share stories and data about our efforts, and, more important, reinforce our commitment to ethical, responsible and holistic thinking about how our business practices can positively influence the world around us.
Last year, we took an important step in the public demonstration of our commitment to sustainability by joining the UNGC. With this action, we placed ourselves alongside some of the most responsible and ethical companies in the world.
This report reaffirms our support for the Ten Principles of the United Nations Global Compact in the areas of Human Rights, Labor, Environment and Anti-Corruption.