About Us
WHO WE ARE
Hillenbrand is a global industrial company operating in over 40 countries with more than 10,000 associates serving a wide variety of industries around the world. Guided by our Purpose — Shape What Matters For Tomorrow™ — we pursue excellence, collaboration, and innovation to consistently shape solutions that best serve our associates, customers, communities, and other stakeholders. Hillenbrand's portfolio includes brands such as Coperion, Milacron Injection Molding & Extrusion, and Mold-Masters, in addition to Batesville.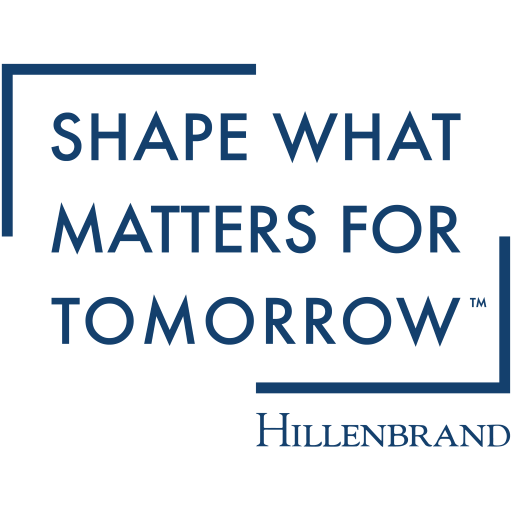 OUR PURPOSE
SHAPE – We are the engineers, designers, manufacturers, and molders, who take pride in our expertise and technical ability – and allow the Company to put the right pieces together to bring forward new solutions for our customers.
WHAT MATTERS – Our end products affect the world. They impact life across how people live, work, play, travel, eat, and heal.
FOR TOMORROW – We continue to look for what's next. As innovators in our respective industries, we work to shape a stronger future for our world.
"Purpose allows us to connect what we make to a broader societal impact and allows us to share what we stand for and where we are going as a company. We are innovators, engineers, manufacturers – all working together to shape what matters for tomorrow."
Kim Ryan, President & CEO, Hillenbrand
OUR MISSION
We strive to provide superior return for our shareholders, exceptional value for our customers, great professional opportunities for our employees, and to be responsible to our communities through deployment of the Hillenbrand Operating Model (HOM). The HOM is a consistent and repeatable framework designed to produce sustainable and predictable results. The HOM describes our mission, vision, values and mindset as leaders; applies our management practices in Strategy Management, Segmentation, Lean, Talent Development, and Acquisitions; and prescribes three steps (Understand, Focus, and Grow) designed to make our businesses both bigger and better. Our goal is to continue developing Hillenbrand as a world-class global industrial company through the deployment of the HOM.
OUR VISION
We are a world-class global industrial company with a proven record of success driven by the Hillenbrand Operating Model.
CORE VALUES
Win As One
Partner With Possibility
Make It Matter
Drive To Deliver