Wanted: advocates for children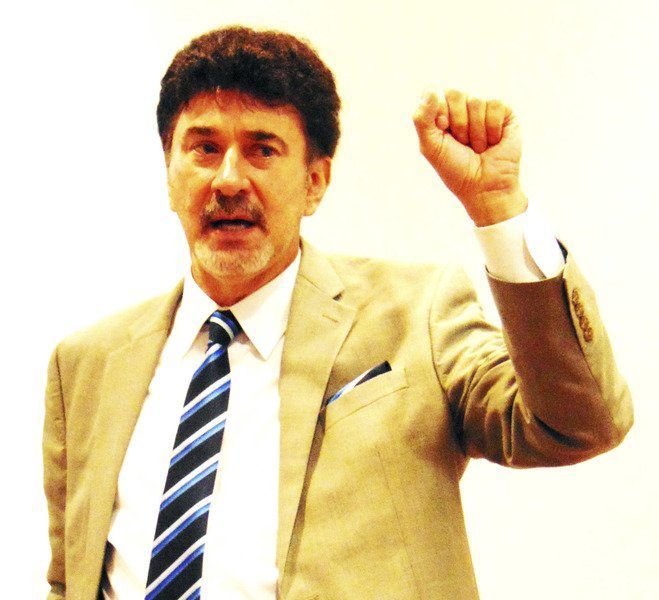 During a month of educational awareness called the One Campaign, Hillenbrand Inc. employees learned about Southeastern Indiana YMCA, the city of Batesville and Safe Passage domestic violence facility a week at a time and some had volunteered service hours at each site.
Close to 40 were informed about Indiana's Court-Appointed Special Advocates from the state director and an Indiana Supreme Court justice Oct. 18. "This is one very great way to be engaged with our community," noted campaign planner Tory Flynn, Hillenbrand Inc. director of communications and public affairs and community engagement.
State director Leslie Dunn, J.D., explained that the Guardian Ad Litem/Court-Appointed Special Advocates program is part of the Indiana Supreme Court. "We do distribute money to the (county) programs and provide oversight and training and we do certify them."
"Ripley County's numbers (of children who need advocates) are way up," she reported, as they are in many other parts of the state. Dunn attributed the rise in abuse and neglect cases to poverty, homelessness and addiction to heroin and other drugs.
The director detailed how the Indiana Department of Child Services and her office have different functions. "DCS does a great job, they do their best, but they're overstressed." When a parent is accused of mistreating a child, DCS caseworkers provides services and resources and sometimes have to make the toughest decision – whether to remove the child from the home.
"CASA is the only service in the state appointed to help the child" in court. "We are a party to the case. We speak for the child ... (We) are the eyes and ears of the court."
In 2015 CHINS (Child in Need of Services) filings were up 30 percent statewide, according to the website www.in.gov/judiciary/galcasa/2387.htm. Last year, with programs in 79 of 92 Hoosier counties, 3,470 active volunteers advocated for children involved in 23,524 CHINS cases and 2,920 termination of parental rights cases.
An advocate tells the judge how the child is doing. Perhaps the child needs to be tested for a learning disability. "One of the big things we push is educational success … we know that education is the ticket out."
She told two stories about how advocates have eased children's lives during tumultuous times. One visited a child in foster care and learned the 2-year-old was crying and couldn't sleep because he was missing a favorite yellow blanket, so the volunteer picked it up and brought it to the toddler.
Dunn herself took a case recently involving two Indianapolis teen siblings. They had been living in a car and were removed from their mom's care after she showed up at the daughter's workplace and demanded her paycheck.
The director worried, "How am I going to connect with these kids? I hope they like football. Luckily they did." One wants to be a pharmacist. She advised the student, "'Stay on track. Keep your grades up.' They don't have people saying, 'Stay away from the wrong kids. Stay away from drugs.' It's amazing what a simple little word of encouragement can do. They don't get that. A CASA … can bring hope and make a difference in their lives."
Area residents who want to help abused and neglected kids, but don't have the time to devote to being advocates, have many other options. Attorneys could answer legal questions and others could serve on a county CASA board, help at an event, create a brochure or donate money.
Dunn concluded that becoming an advocate could be "a legacy you also leave for your children – to show them the right thing to do is to help your community … We all have an obligation morally and spiritually … to help these kids. You will gain from this experience so much more than you give."
Six-year Justice Steve David pointed out, "I work for you. You are all stockholders in the Indiana Supreme Court. Thank you all for being so community caring … and family focused."
He suggested another way Hoosiers could boost the CASA initiative – help with recruiting advocates. "Humans are social creatures. I bet all of you belong to at least one social organization … have a family of some kind."
The former Boone County Circuit Court judge said, "I have to do things I don't want to do, what I call the have-tos." Chatting about the CASA program "is a get-to, I want to. This is how important your CASA volunteers are."
When David tried to find a CASA creed, he couldn't, so the justice wrote one, which he read: "I'm the guardian of our children, ... a protector of our children … I hope to improve the family … I service the children whose voices are often ignored … I will be fair … I will listen. I will not judge. All children deserve peace, safety and happiness."
David noted, "Trial judges, particularly with juvenile jurisdiction, have to make some of the hardest, most gut-wrenching decisions. As a judge, I want as much information as possible" before deciding whether a child is removed from the home or placed back there or with a stranger. "CASAs are critical. Unlike everybody else" in the courtroom, the advocate's mission "is only to care about that child."
Indiana law states a CASA must be appointed for each CHINS case. The justice observed, "Because of the increase in filings, we don't have enough CASAs. Would you let a child go one day without food? Heavens, no. But yet we have thousands of cases in Indiana where a CASA has not been appointed for that child. As far as I'm concerned, they're going without food."
"The sad thing in Indiana is that most often the CASA volunteer is the only stability that child has while he's in the system. That volunteer represents trust, hope, all things I took for granted as a child. …so many of our children can't imagine what it would be like to be safe, secure and nurtured in their environment."
"Why should you support this?" he asked rhetorically. "It's the right thing to do. It moves the (judicial) process along more quickly …. It saves money. We do not have unlimited resources. That child gets resolution earlier and generally better (resolution) than without" an advocate.
The justice called the work of advocates "hard, but most rewarding. When I retire, I would like to serve as a CASA … I want to do my best and have one more chance to maybe help contribute to one more child's successful life."
David advised the Hillenbrand associates, "Focus more on your to-be list than to-do list." He urged them to become better community members, "rays of hope."
Then the speaker presented a Mahatma Gandhi quote: "Be the change you want to see in the world" and his modified version: "Be the change you want to see in your community. Step up."
Debbie Blank can be contacted at debbie.blank@batesvilleheraldtribune.com or 812-934-4343, Ext. 113.
Training for advocates starts soon in Batesville
• Ripley County Circuit Court Judge Ryan King observed at the meeting, "Our number of CHINS cases has exploded." In 2013 there were 28, while "this year we're on pace to be over 120," which is the reason more advocates are needed. He explained Southeastern Indiana Voices for Children is funded with some state money and $20,000 annually from Ripley County, which has produced over 5,000 volunteer hours.
• The nonprofit is now serving 115 children in Ripley and Jefferson counties, but 142 children who need advocates are on a waiting list, said executive director Tonya Ruble-Richter.
• Southeastern Indiana Voices for Children is currently accepting CASA applications. The next training class will be in Batesville at a location to be determined on the first two weekends of November: Fridays, Nov. 4 and 11, from 5:30-8:30 p.m.; and Saturdays, Nov. 5 and 12, from 8:30 a.m.-4 p.m. Prospective volunteers should contact Ruble-Richter at 812-599-2630 or tonya@voicesforchildren.net. More information about the program can be found online at www.voicesforchildren.net.
• Mimi Ryan, Batesville, recently retired and became an advocate. At the presentation, she reported, "It's really a learning experience. I didn't know anything about the court system. You go through training and have this foundation. Tonya and ... (program coordinator Aubrey McClure) are so helpful" and provide advice. "Anybody can do it. It does take some time."