United Way Campaign Underway in Franklin County
The United Way of Franklin County Board of Directors is proud to announce the start of the 2017-18 county campaign.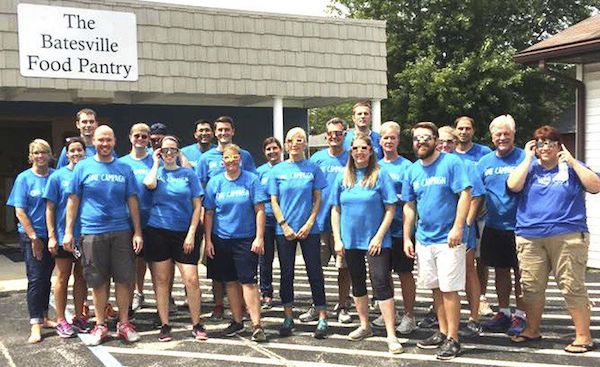 It officially kicked off during the "One Campaign Week of Volunteering," a partnership with Hillenbrand Inc. and Batesville Casket. Hillenbrand and Batesville employees volunteered in two of the nonprofit's funded agencies, the Batesville Area Resource Center and New Horizons Rehabilitation. One hundred and twenty-three volunteers donated a total of over 800 hours and approximately $13,000 in in-kind contributions, reported UWFC executive director Kelly Bulmer.
"Individual worth and integrity is one of the core values at the center of who we are as a company," noted Glennis Williams, Hillenbrand senior vice president and chief human resources officer. "The One Campaign is a way we can bring these values to life, and we had an amazing week partnering with United Way of Franklin County. We are so grateful for all they do in our community."
A majority of UWFC's donations come through employee payroll campaigns. Local employers allow their employees to donate money through automatic payroll deductions. Those employer payroll campaigns will be taking place from now through the end of the year.
"We just wrapped up the Franklin County School Corp. pledge campaign since their payroll starts a bit earlier and they increased their giving by 10 percent over last year, which is great! We hope that is the trend with our other employee payroll campaigns this year," stated campaign chair Matt Perleberg.
Other employee pledge campaigns that will be taking place include Owens Corning, FCN Bank, MainSource Bank, Bath State Bank, Jim True Ford, Margaret Mary Health and George's Pharmacy.
A mass mailing will soon go out to individual donors. However, that is not the only way to donate, Bulmer pointed out.
"If you work outside the county and your employer holds a United Way pledge campaign, you can request your pledge to be directed back to Franklin County. Or you can give online through PayPal or an automatic deduction from your bank account at www.uwfcin.org/donate. In addition, you can sign up through Amazon Smile and select United Way of Franklin County as the charity of your choice and Amazon will give 0.5 percent of your total purchases back to United Way of Franklin County."
Anyone with questions on how to donate should contact her at 765-647-2789 or info@uwfcin.org.
Photo credit: (Submitted photoOne shift of Hillenbrand volunteers take a break from working at the Batesville Area Resource Center for a photo and to view the Aug. 21 solar eclipse.)
SOURCE: View the original article from The Herald-Tribune by clicking here.