Take a book, leave a lasting impact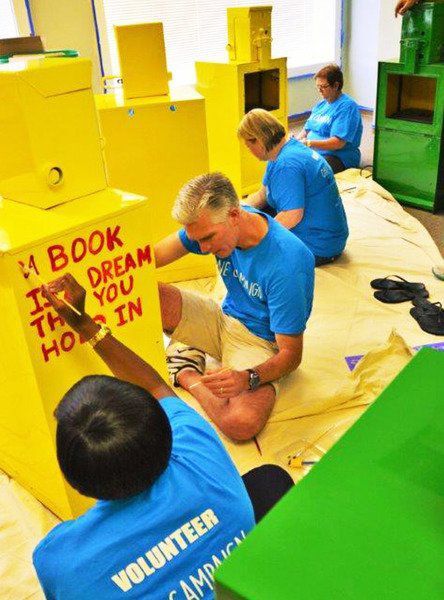 The first official Little Free Library began in Wisconsin in 2009, but now the story-sharing movement has made it to Batesville, Vevay and Sunman.
The movement began as one man's tribute to his mother, a former teacher who loved to read. Todd Bol built a box shaped like a one-room schoolhouse and filled it with free books, inviting his friends and neighbors to give and take books as needed. By last month, there were 50,000 Little Free Libraries around the world.
Safe Passage, an organization aimed at providing intervention services to victims of domestic violence, as well as promoting a safe, nurturing community, brought Little Free Libraries to Batesville when one of its prevention coordinators, Samantha Santen, believed it aligned with the organization's efforts.
"Having Little Free Libraries in our communities aligns perfectly with promoting a safe, stable nurturing environment for youth while also developing protective factors for our youth," said prevention coordinator Bridgitte Taylor.
Safe Passages uses 40 developmental assets as a prevention tool, which provide assets to children in the hopes that the more assets a child has, the less likely they are to engage in violent relationships, drug and alcohol use, and other dangerous behaviors. Among the 40 assets Safe Passage tries to instill in youth, the Little Free Libraries address positive family communication and reading for pleasure.
"By creating an environment for assets to be building our youth, we are truly making a difference in our communities," Taylor said.
However one learns about the Little Free Libraries, their impact cannot be denied. Sunman Youth Mission Vice President Christina Stoneking said the organization first heard about the book-sharing program through an article in the Versailles newspaper. Because there is no town library in Sunman, the Little Free Library seemed an ideal solution to a lack of local reading materials.
"We do not have our own town library to borrow books from that is affordable; our closest library is Milan or Batesville and you have to pay for an expensive out-of-town library card," Stoneking said.
Safe Passage's eight miniature libraries, three of which are placed, were made from donated and repainted newspaper boxes. This task was completed by 15 volunteers. The libraries can be found at Amack's Well, 103 E. George St., and St. Anthony's Catholic Church, 4755 E. Morris Church St., Batesville; and The Lantern Coffeehouse, 414 Ferry St., Vevay.
Sunman's Little Free Library was crafted from cedar with a shingle roof and glass door by two town employees. It is located on the side of the Campbell building in Sunman Community Park.
All the little libraries work on a take a book, leave a book system, though it is understood that some books may occasionally be taken without a donation.
"Many other community members are making sure the libraries are staying full by bringing books. We have not had a problem with running out of books yet," Taylor said.
Stoneking said Sunman's books were all donated and the town council has provided funding for Sunman Youth Mission's first library. Currently, Sunman is in need of teen and children's books. While books can be donated any time directly at the library, Stoneking said the Sunman Youth Mission is open from 5-7 p.m. on Thursdays, though they will not meet again until early January. Stoneking asked those wishing to donate books to contact her at 812-623-0431.
Taylor said anyone wishing to donate to one of Batesville's little libraries can contact her at btaylor@safepassageinc.org or 812-933-1990. She can provide a list of recommended books for potential donors.
The spirit of community and generosity is the foundation of the Little Free Libraries' success across the world. Sharing the written word is one of the world's oldest methods of bringing people together. Through the ages, people have shared their histories, imaginations and uncountable stories through books. The unfortunate reality today, however, is that not everyone has easy access to books, even less to free books. Without donations, it would not be possible to keep Little Free Libraries working.
"We are very grateful that everything for this project was donated by a variety of community partners, including businesses and individuals," Taylor said. "Our hopes for this project is that the community comes together to build assets in individuals, families and their own lives. We believe that by doing this we are all taking part in preventing violence and making a difference. By placing these libraries in the communities, we believe that we are in fact building these assets in our youth and also creating a safe, stable and nurturing environment for youth and caregivers."
The books in Batesville's little libraries were specifically chosen as developmental assets. Inside, each has questions that pertain to a specific asset category – support, empowerment, positive identity, positive values, commitment to learning, constructive use of time, social competencies, and boundaries and expectations. These asset categories were discussed in the book and the reader and caregiver can reflect on how it is or can be shown in their own lives, Taylor said.
Stoneking said the Sunman Youth Mission hopes "to bring people to the park and take time out from computers, phones and tablets and pick up a real book. We have a lot of fun with it and are meeting new people all the time."
"Make sure to stop by one of our locations," Taylor suggested. "Please reach out to us if you are interested in helping out with a library, know of a location or would like to donate books."
To learn more about creating a Little Free Library of your own, visit www.thelittlelibrary.com.
The Herald-Tribune and Greensburg Daily News are both properties of Community Newspaper Holdings Inc.
Contact: Amanda Browning at 812-663-3111, Ext. 7004; amanda.browning@greensburgdailynews.com.