Small Town, Big Access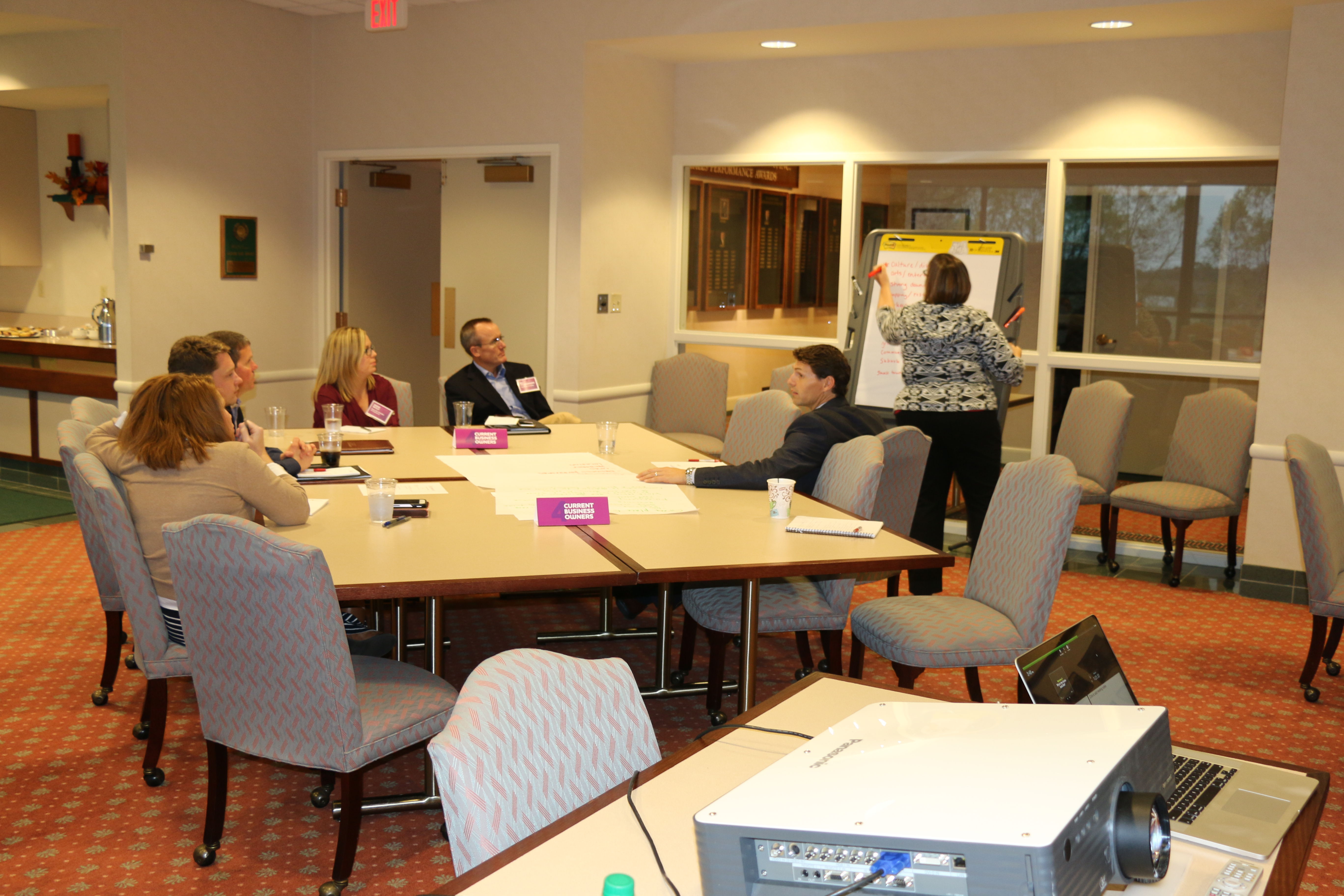 Local business, organization and government leaders gathered for the final of four Hillenbrand Community Leadership Series meetings Oct. 27.
This session focused on storytelling and was led by representatives of public relations firm Borshoff, Indianapolis.
Mark LeClerc of Borshoff pointed out, "Storytelling is basically a journey …. You're telling a story and trying to persuade possible residents or business owners to come here and trying to retain those who are already here."
Prior to this gathering, participants were asked to submit a photo that they believed best represented Batesville's story today. Four were asked to share their choices.
Mayor Mike Bettice chose a photo of downtown with the Sherman House in the background. He said, "We are a city in transition. I was trying to get a picture of the Sherman House in its transition. Downtown has gone through a rough patch the past few years, but we want to continue to make Batesville a great place to live and work."
Diane Bohman, Hillenbrand Inc. chief administrative officer and senior vice president, had a photo of Liberty Park at sunrise. "It's almost like a fairy tale, a safe, nice place to raise a family …. (Batesville) still has a small-town feel."
A collection of several headshots of people of different ages was Safe Passage executive director Jane Yorn's choice. "This picture represented that there's something on everyone's mind. People have unseen needs, and there are people in the shadows who haven't lived an ideal life."
Anna Ibold, Batesville Area Chamber of Commerce executive director, sent a photo of Amack's Well. She explained that this coffee house "is really a great staple" in the downtown. "My kids ask at least once a week if we can go there."
LeClerc revealed, "Joseph Campbell, a university professor, wrote a book, 'The Hero With a Thousand Faces,' in 1949. In it, he said all stories are the same." All of them have this premise: A journey from home, transformation and a return home.
"How many movies have you seen in your life and you see this base form?" Using examples, he talked about how all follow this format:
• Ordinary world – "Harry Potter lives underneath the stairs at his aunt and uncle's house. He has a mundane existence and some yearning to get out, but there is some sort of comfort in being there and there's a reluctance to leave."
• Call to adventure – "Someone says, 'Come with me,' like when Obi-Wan Kenobi says it in 'Star Wars."
• Refusal of call – "Rocky has a reluctance to fight Apollo Creed for the heavyweight championship of the world."
• Meeting with the mentor – "We are all mentors. We think of the mentor as being an old man or old woman with all the wisdom in the world, but it doesn't always have to take that form. Think of 'Wedding Crashers.'"
• Crossing the threshold – "In 'Good Will Hunting,' the main character was faced with incarceration and could either go to jail or go with the college professor and see what he knew and what else he could learn. He crosses that first threshold, and there was no going back."
• Test, allies, enemies – "In the middle of the story, the hero is put to the test to see if he has what it takes. In 'The Princess Bride,' Inigo Montoya helps the hero get to the princess bride. You may fail different tests over and over, but you keep going."
• Approach the innermost cave – "The hero is hesitant. In 'Rocky,' it happens the night before the fight when Rocky leaves his apartment and goes to the stadium to see the ring and decides he can't win. It's a scary time for the hero. "
• Ordeal – "There's a sacrifice or battle. In 'Harry Potter,' he had to sacrifice himself to Voldemort."
• Reward – "There's celebration and receiving recognition. In 'Dirty Dancing,' it was the dance at the end.
• The road back – "'Toy Story' said it as 'to infinity and beyond!'"
• The resurrection – "There's a figurative resurrection of the character, who has become new or cleansed. Harry Potter comes back to life and beats Voldemort."
• Return with the elixir – "In The 'Wizard of Oz,' Dorothy says, 'Aunty Em, there's no place like home.'"
Applying this to real life, the speaker said, "The ordinary world is your customer without your product or information, prospective business owners or residents who don't know your story or what you have to offer. The transformation is a reward or product usage that improves a customer's life. The return with the elixir is if we do our jobs well, our customers will tell our story."
LeClere revealed, "The most common pitfall to telling our story is that companies think their products are the hero, but the real hero is the customer …. If you tell them the story of how your product is going to transform them and make their life better, that resonates with them."
The group was asked why people and businesses would want to move and/or stay in Batesville. Some of the responses included: great school system, great place to raise a family, good work ethic, good quality of life, lies between two major cities on the interstate, strong community partnerships and safe place to live.
Steven Harmeyer, the city's community development director, summed it up in four words: "Small town, big access."
Attendees were also questioned about why people refuse the call to either come to Batesville or stay here. Answers included: they're comfortable in their current situation; family is where they are; it's small; location may not fit their needs; lack of affordable housing; lack of jobs, incentives for businesses, infrastructure, utilities and broadband.
LeClerc emphasized, "We need to not only know why people want to be here, but also why they don't."
In addition, he stressed, "If you come away with nothing else from today, remember the customer is always the hero."
Tory Flynn, HI communications and public affairs director, wondered, "How do we package this?"
LeClerc reported, "Take the barriers and the positives, and you need to further talk as a group about what are the most important things to communicate or highlight. Build that into a single message, framing it from the story standpoint."
Jennifer Berry of Borshoff announced, "When you start telling the story this way, you've highlighted some of the things that are most attractive. When you start practicing this, it will go viral."
LeClerc suggested, "Talk to businesses and residents who have moved here and do testimonials. That carries more weight than a message coming from the city."
The mayor asked the discussion leaders, "What did you learn about us today?"
Berry said, "The most important things are already here. There's so much potential here. It feels like you have the business structure of a big city, but the community of a small town."
Adam Hoover of Borshoff added, "I think just the existence of this group shows there's a lot of passion about this community …. A lot of the things other municipalities are struggling with, you don't see that here."
A subcommittee formed by the mayor will continue to move forward with finding ways to get more residents and business owners to come and stay in Batesville.
Diane Raver can be contacted at diane.raver@batesvilleheraldtribune.com or 812-934-4343, Ext. 114.