Safe Passage, Hillenbrand, Batesville Casket Partner For Community Engagement Initative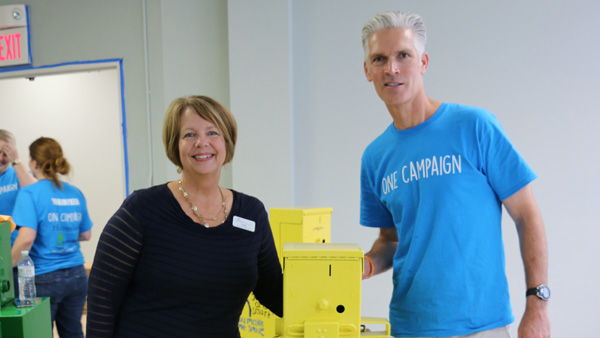 (Batesville, Ind.) – This summer, Safe Passage, Inc. partnered with Hillenbrand, Inc. (NYSE: HI) on Hillenbrand's new community engagement initiative – the One Campaign. From August 8 – 12, 70 associates from Hillenbrand and Batesville Casket, one of Hillenbrand's operating companies, volunteered in shifts, totaling over 500 hours of labor.
"We are beyond grateful for the work done by Hillenbrand and Batesville associates through the One Campaign," said Jane Yorn, Executive Director for Safe Passage. "They came in each day and accomplished more than we could have imagined. We deeply value their partnership and are so humbled to see a large company in our community engaging and furthering our mission. The One Campaign truly re-energized our staff in the work we're doing, and Hillenbrand and Batesville have had a lasting impact on our clients."
Hillenbrand and Batesville volunteers completed the following projects:
Hosted a Kids' Camp for children living in the shelter
Conducted professional development seminars for Safe Passage staff and clients. Topics included strengths finder, resume building, first impressions and interview skills
Painted multiple rooms within the shelter
Crafted and framed motivational messages for clients
Organized shelter storage room
Decorated boxes for Little Free Libraries Program


"The One Campaign provided a humbling opportunity for us to partner with an organization that does so much to change the lives of women and families throughout Southeast Indiana," said Joe Raver, President & CEO of Hillenbrand, who spent an afternoon at the shelter painting Little Free Libraries. "We thought we would help and have a big impact on Safe Passage, but at the end of the day, the biggest impact has been on us. This was more than us just being a good corporate citizen, this was being a good neighbor."
Hillenbrand's One Campaign is built on three main concepts: one week of community volunteerism, a one-month educational awareness campaign and in-kind donation drive, and one year of a significant corporate contribution that will "move the needle" in the community.
"At Batesville and Hillenbrand, our Core Values guide us every day in how we interact with our colleagues and our customers," said President of Batesville, Chris Trainor, who spent an afternoon painting the facility. "This project was an opportunity to live and breathe those values in a different way, by going out in the community and participating in something bigger than ourselves. Contributing to a project like Safe Passage, which has such an impact on the local community, was truly a humbling experience."
To learn more about Safe Passage, visit www.safepassageinc.org. A 24-hour Toll-Free Helpline is available at 1-877-733-1990.