Neighborhoods See Benefits During Year 2 of Massive Road Rehab, Preventive Maintenance Initiative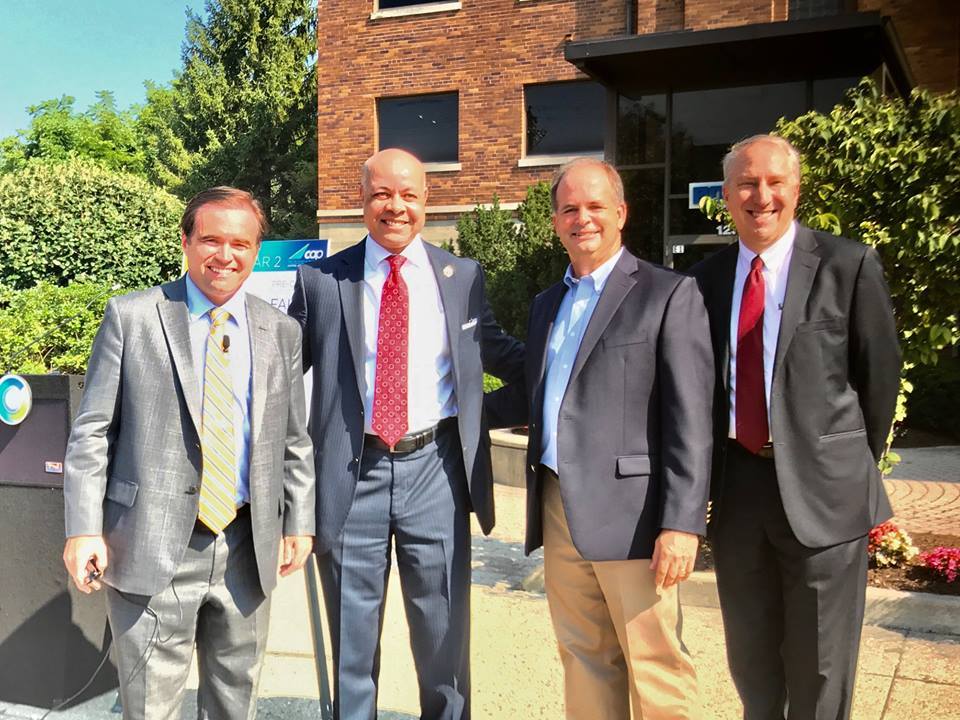 CINCINNATI – Mayor John Cranley, City Manager Harry Black and transportation officials marked the second year of the City of Cincinnati's enhanced road rehabilitation initiative with a ceremonial street "grind" on Knowlton Street in Northside on July 19.
The initiative is part of the City's innovative, six-year Capital Acceleration Plan, or CAP, which nearly doubles the amount dedicated to street improvements between 2016 and 2021.
During the first two years of the program, the City will have resurfaced or rehabilitated a total of 508 lane miles on 959 streets throughout the city by the end of this summer's construction season.
Prior to CAP, the City spent about $15 million annually on street improvements and averaged only 87.5 lane miles per year in 2014/15.
"This investment in our public infrastructure is improving safety, saving taxpayer dollars, enhancing the City's business environment and raising the overall quality of life for our residents," Mayor Cranley told the media at Wednesday's event on Knowlton Street. "This program has increased road paving by over 100 percent."
"This is another promise kept," added City Manager Harry Black.
"We commend Mayor Cranley and the City Council for their continued support for this strategy, allowing us to substantially increase the useful life of our streets and avoid more expensive repairs later," he continued. "These are results our residents can touch, feel and see."
Of note, the rehab work on this stretch of Knowlton runs adjacent to Rotex Global LLC, the largest employer in Northside and the city's second-oldest manufacturing company after Procter & Gamble. As part of the event, Rotex officials were available to discuss the benefits the City's rehab work will provide to their industrial-screen business.
"A well-built and reliable transportation system is vital to growing our business and retaining a talented, local workforce,"said Bob Dieckman, president of Rotex. "Many Cincinnatians have made their careers at Rotex, and today we are the largest employer in the Northside neighborhood. Better infrastructure brings more business investment to our community. I am pleased that the City is taking this step towards rebuilding our roads."
CAP provides $69 million in additional funding for improvements to city streets through 2021. Improvements include rehabilitation and, for the first time since 1999, comprehensive preventative maintenance.
Combined with the City's annual street improvement program, outside grants and CAP, Cincinnati is investing approximately $171 million to rehabilitate or resurface 40% of the 2,936 total lane miles in all 52 neighborhoods.
Rehab and preventative maintenance save money in the long run for roads by increasing their useful service life. The cost to replace poor roads is significantly more over time than maintaining them in good condition. The City's Department of Transportation and Engineering (DOTE) scores every street in its network on a scale of 0 to 100. The grading system allows the City to prioritize ongoing maintenance for all streets.
"Because of CAP, the City has been able to maintain our overall 'good' condition rating for our network of streets for two consecutive years," said DOTE Director Michael Moore. "Our strategy with pavement management is to keep recently paved streets in good or better condition and to upgrade our most deteriorated streets to excellent condition."

Using this strategy with CAP support, 17 percent of City streets have been improved in 2016/17 versus 6 percent on 2014/15, prior to CAP.
The Office of Performance and Data Analytics (OPDA), CAGIS and DOTE have collaborated to create a web-based portal for the public to view the progress made possible by CAP.
This new tool provides users the opportunity to review pavement conditions for individual streets or to see the average pavement condition by neighborhood. The portal also provides information about which streets are included in upcoming street rehabilitation and preventative maintenance programs.
Last month the City unveiled dozens of new public safety and service vehicles as part of the Fleet component of CAP. The City is on track to bring its entire fleet into industry standard lifecycle by 2028, saving millions in maintenance and borrowing costs, improving working conditions for employees leading to enhanced customer service and reducing greenhouse gas emissions.
More information about the CAP can be found on the City of Cincinnati's website by visiting the CAP website.