NAM and Hillenbrand Award Sen. Donnelly for Supporting Manufacturing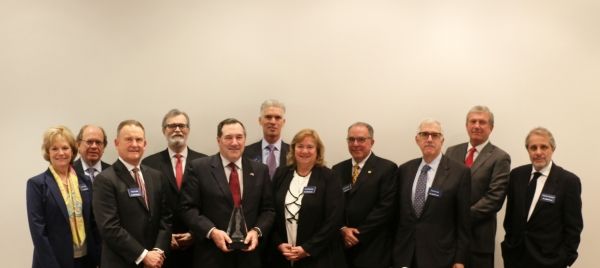 Washington, D.C., February 22, 2017 – Today, the National Association of Manufacturers (NAM) presented Sen. Joe Donnelly (D-IN) the NAM Award for Manufacturing Legislative Excellence at an event hosted by Hillenbrand, Inc. in Batesville, Indiana.
"Senator Donnelly's strong track record of supporting a pro-manufacturing agenda is vitally important to companies like Hillenbrand," said Joe Raver, President & CEO of Hillenbrand. "Manufacturing is critical to the strength of our nation's economy, and we are grateful for leadership that continues to help manufacturers compete in a globally dynamic market place."
"Indiana's economic success is directly tied to our manufacturing industry: it employs our friends and neighbors in communities across the state," said U.S. Senator Joe Donnelly. "With nearly one-third of economic activity tied to manufacturing, there is no state in the country more dependent on the industry. It is an honor to receive this award, which is a reflection of our work together, and the important feedback businesses and workers provide as I work to best serve Hoosiers. I look forward to continuing my work alongside Hoosiers to grow and expand manufacturing opportunities in Indiana and across America."
"Manufacturers in Indiana and across the country are changing lives for the better—through the jobs we create and the products we make. Manufacturing is about improving the human condition, one innovation at a time," said NAM President and CEO Jay Timmons. "Senator Donnelly is helping to make our success possible by standing with manufacturers when it matters and casting the right votes."
"Manufacturers employ over 12 million men and women in the U.S., who are making everything from lifesaving medicines to the most cutting edge technology. The strength of manufacturing in America is responsible for the success of America in the world. When manufacturing succeeds, America succeeds, so Senator Donnelly's consistent support for manufacturing means he is supporting a better future for all Americans."
Key Votes included in the Voting Record are selected by small, medium and large manufacturing executives who serve on the NAM's Key Vote Advisory Committee. Additional information on the NAM Award for Manufacturing Legislative Excellence can be found here.
-###-
The National Association of Manufacturers (NAM) is the largest manufacturing association in the United States, representing small and large manufacturers in every industrial sector and in all 50 states. Manufacturing employs more than 12 million men and women, contributes $2.17 trillion to the U.S. economy annually, has the largest economic impact of any major sector and accounts for two-thirds of private-sector research and development. The NAM is the powerful voice of the manufacturing community and the leading advocate for a policy agenda that helps manufacturers compete in the global economy and create jobs across the United States. For more information about the Manufacturers or to follow us on Shopfloor, Twitter and Facebook, please visit www.nam.org.
Hillenbrand is a global diversified industrial company with multiple market-leading brands that serve a wide variety of industries across the globe. We pursue profitable growth and robust cash generation in order to drive increased value for our shareholders. Hillenbrand's portfolio is composed of two business segments: the Process Equipment Group and Batesville. The Process Equipment Group businesses design, develop, manufacture and service highly engineered industrial equipment around the world. Batesville is a recognized leader in the North American death care industry. Hillenbrand is publicly traded on the NYSE under "HI." www.Hillenbrand.com