Indiana Manufacturers Associations Honors 2017 Manufacturers Hall of Fame Inductees at Luncheon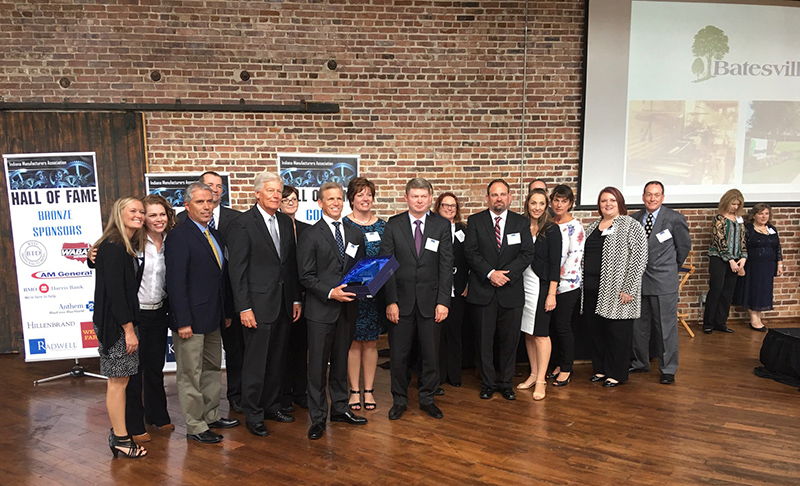 Indianapolis, IN -The Indiana Manufacturers Association held its 2017 Indiana Manufacturers Hall of Fame induction Luncheon on October 4, 2017, at the Biltwell Event Center in Indianapolis.
The goal of the Indiana Manufacturers Hall of Fame is to celebrate and recognize the positive achievements made by Indiana manufacturing companies, and to honor their contributions to furthering manufacturing in Indiana.
Governor Eric Holcomb was in attendance and addressed questions regarding his manufacturing initiatives.
Katz Sapper & Miller LLP (the presenting sponsor of the event) and Indiana University presented their findings from the 2017 Indiana Manufacturing Survey.
The companies being inducted this year have made outstanding contributions to the development of a healthy, dynamic environment in Indiana, and to the state's overall economic well-being.
Inductees into the Hall of Fame were:
Batesville Casket, an Operating Company of Hillenbrand, Inc., Batesville

Clabber Girl Corporation, Terre Haute

Geo. Pfau's Sons Co., Inc., Jeffersonville

Hill-Rom Company, Inc., Batesville

Jessen Manufacturing Company, Inc., Elkhart

Michigan City Paper Box Company, Michigan City

Mid-West Metal Products Co., Inc., Muncie

Myers Spring Company, Logansport

Sommer Metalcraft Corporation, Crawfordsville

Thomas L. Green, Division of Reading Bakery Systems, Indianapolis

Zimmer Biomet, Inc., Warsaw


---

ABOUT THE INDIANA MANUFACTURERS ASSOCIATION
Formed in 1901, the Indiana Manufacturers Association is the second oldest manufacturers association in the country and the only trade association in Indiana that exclusively focuses on manufacturing. Manufacturing is the driving force of Indiana's economy, employing more people and contributing more to Indiana's gross domestic product than any other industry. The Indiana Manufacturers Association, representing more than 1,400 companies, is dedicated to advocating for a business climate that creates, protects, and promotes quality manufacturing jobs in Indiana. The staff of the Indiana Manufacturers Association has more than 100 years of combined governmental affairs experience and is recognized as experts in areas including tax, environment, labor relations, human resources, energy, workforce development, and healthcare. For more information, visit www.imaweb.com.