Indiana, a great place to do business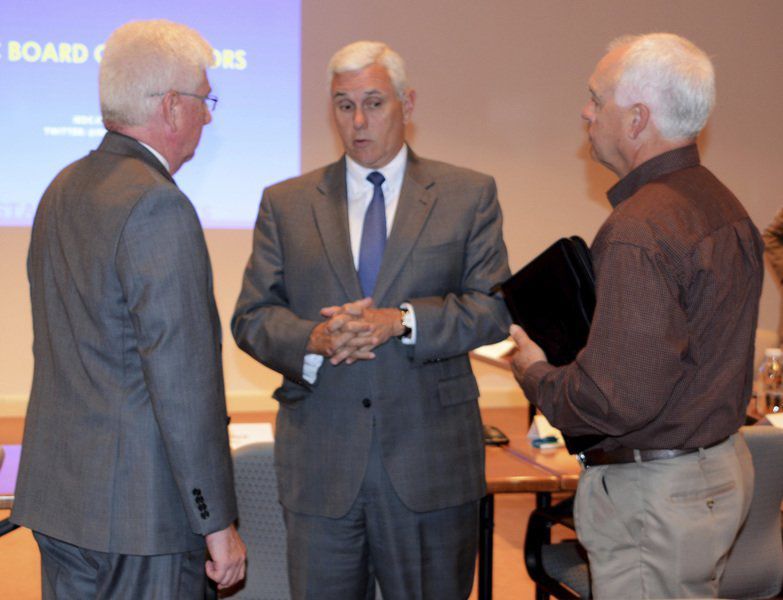 Gov. Mike Pence chaired a joint meeting of the board of directors of the Indiana Economic Development Corp. and Indiana Economic Development Foundation Inc. June 2 at Hillenbrand Inc., Batesville.
"This is a very exciting time in the life of our state," the governor reported. "We are at record employment for about the ninth month in a row. Over 150,000 Hoosiers are going to work in jobs that have been created by businesses, and the quality of those jobs should be a source of encouragement.
"We're No. 1 in the Midwest and No. 5 in the nation for the best place to do business .... (and) we're seeing real growth in what Hoosiers are making as an average wage."
Pence pointed out, "We've made investments in our infrastructure, and that is key, as is having people who have the background to fill the jobs ... Our investments in education have been essential .... Helping communities create a great quality of life is what's going to encourage people to stay and come into the state.
"The role of the state and IEDC is a supporting role. I personally think the credit for our successes goes to the people of Indiana and to businesses, large and small .... We are in the lead because of the hardworking people of Indiana."
Victor Smith, IEDC member and Indiana's secretary of commerce, noted, "Indiana is known as a great state to do business in. Our story is being told .... Companies are growing here, which leads to more jobs."
IEDC member Rollie Helmling stressed, "Motor sports is part of our DNA in Indiana. What an opportunity it was to showcase our state to the world" during the 100th running of the Indianapolis 500 May 29.
"Visit Indy (the official tourism site of Indianapolis) estimated the 100th running brought $330 million into the state of Indiana. This was compared to what the 2012 Super Bowl brought in, which was $278 million. The beauty of this (the Indianapolis 500) is we do this every year on Memorial Day weekend .... Motor sports are certainly a very big part of our economy."
Diane Raver can be contacted at diane.raver@batesvilleheraldtribune.com or 812-934-4343, Ext. 114.