Hillenbrand CEO says company focuses on attracting top talent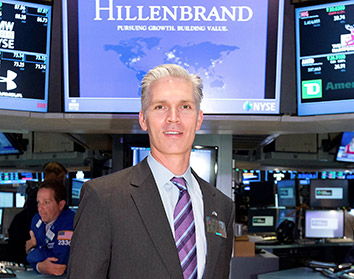 Joe Raver has spent the past 2-1/2 years as president and CEO of Hillenbrand Inc., a Batesville-based company most widely known as a leading American casket- and urn-maker.
Raver, 50, said what's less known about the company is how global it's become.
The diversified industrial manufacturer—which, along with its subsidiaries, makes everything from frac-sand processing equipment to piston pumps for wastewater treatment plants—has 6,000 employees around the world, with about 1,000 of them in Indiana.
The company has also been on an acquisition bent. Its most recent purchase is Pennsylvania-based valve-maker Red Valve, for $132 million. Hillenbrand last year bought Germany-based ABEL Pumps LP.
IBJ: Despite the growth through acquisitions, revenue for the company was down in the most recent quarter—4 percent lower than the prior year. What drove that?
RAVER: Revenue was down largely due to softness in some of the key end-markets we serve.
A year ago, we had a very strong flu season and the mortality associated creates some ups and downs in an otherwise steady burial casket market.
It's good for the world [when the flu abates], but not good if you're a casket company. The long-term trends are pretty steady.
IBJ: What makes Batesville an attractive place to continue to run your company given the growth in international sectors?
RAVER: It's a fantastic little community. We have outstanding schools. We have an amazing arts community. We have a really good mix of businesses to help attract people here. We're more involved in the community as a company than you see in larger cities because it's so important to us to attract talent to Batesville.
The community has really embraced us. We have significant business in Germany. The local high school started offering classes in German. We're looking to find people who want an international experience. Even though we're in a small town in Indiana, we offer people those kinds of experiences. It helps us become a more globally sophisticated organization.
IBJ: Hillenbrand has a reputation for valuing the health of its employees. What is new in this area?
RAVER: We continue to push the edge of the things we can offer to our employees to make their health and wellness better. I say this partly tongue-in-cheek, but I think if we hit hard times and there was a wage freeze, it would be OK. If we said we were taking away the health and wellness clinic, people would be marching in the streets.
This is one of the best things we've ever done in our company. Our health care costs have really been kept in line much better than national averages.
IBJ: What is the biggest challenge for your company looking forward?
RAVER: You're only as good as your talent. To keep up with our growth, we have to have the proper skill sets and experiences to make sure we're fully capable. We spend a lot of time thinking about that, not only from attracting talent but also developing and retaining it within the organization.
We think businesses have a big responsibility in ensuring that the education system is meeting the needs of businesses and meeting the needs of students. We are working through the educational system not only to make sure we're getting the skill sets we need to help grow our businesses, but also exposing students at all levels to our businesses and to manufacturing so they have a desire to come back someday.•