Governor rolls out jobs initiative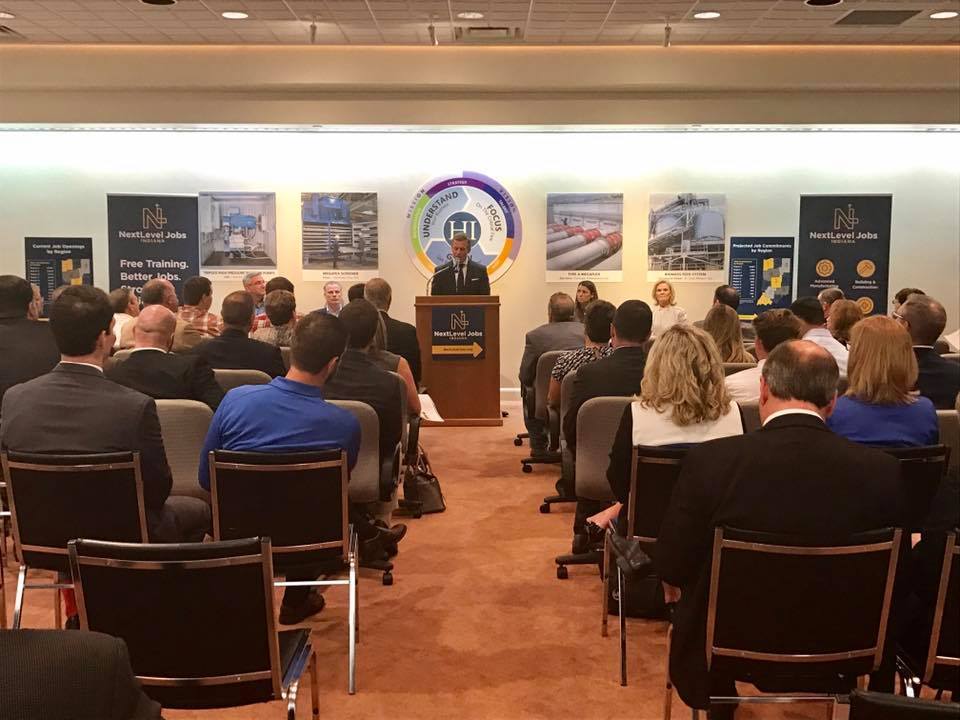 Community, school and business leaders, along with elected officials, welcomed Gov. Eric Holcomb and other state officials to Batesville during a visit to Hillenbrand Inc. Aug. 15.
This was one of six stops over three days the the group, which kicked off Indiana's Next Level Jobs initiative and announced two new grant programs designed to put Hoosiers to work in high-demand, high-wage jobs as quickly as possible.
Chris Trainor, HI senior vice president and Batesville president, said, "We are honored to host this event today. Batesville has taken deliberate steps to develop a workforce in our community.
"A skilled workforce is a major issue for Indiana manufacturers. We don't just need skills, we need people .... The reality is most manufacturing companies will lose nearly a quarter of their workforce over the next five years.
"We're so pleased to see Governor Holcomb and the Indiana Department of Workforce Development giving this the attention it needs."
Holcomb reported, "There are 95,000 unfilled jobs throughout Indiana. We know we've got the jobs ... (and) we've got an eager workforce seeking those jobs. They just need to be skilled up.
"We realize our people are our greatest asset, and we're so encouraged to talk about a few programs we're rolling out all over the state of Indiana."
The Workforce Ready Grant covers full tuition costs for adult learners to earn career certificates in high-growth sectors of Indiana's economy. Hoosiers can earn these certificates through Ivy Tech Community College or Vincennes University campuses around the state.
The Employer Training Grant program will provide up to $2,500 per new employee to qualifying companies that train and retain new employees for six months, the governor stated.
"The success of these programs is win, win, win for employees, employers and the state of Indiana. We're going to be relentless about this. It is our charge."
"A big goal for us in Indiana is for 60 percent of Hoosiers to have a degree beyond high school," announced Teresa Lubbers, Indiana commissioner for higher education. "We're talking about all kind of degrees, but focusing on certificates and associate degrees. We need to do a better job of getting students prepared ... (and) focus on getting our adult population prepared for the jobs of the 21st century.
"We've looked at five high-growth sectors where there is a skills gap: advanced manufacturing, building and construction, health and life sciences, IT and business services and transportation and logistics .... We've identified more than 100 certificates that would allow Hoosiers to be employed and be successful. Indiana will be able to improve their jobs and opportunities for them and their families."
The schooling needed to earn the certificates "will be tuition free .... If you put in the work, we'll put in the training."
She stressed, "It's already working. In just a day, 550 individuals have filled out applications, and 4,500 have accessed the website (NextLevelJobs.org). We're delighted to have this partnership with the Indiana Department of Workforce Development. Together we're going to get this done."
Steve Braun, Indiana Workforce Development commissioner, emphasized, "We're projecting over a million job openings over the next 10 years. That's a massive challenge. This isn't about demand. This is the way we fix this from the supply side."
Indiana's unemployment rate for veterans "is the lowest in the nation. Now almost every veteran brought back to the state gets employed .... In the penitential system, we have a re-entry mentoring program where we have a network of employers we work with, and we have 2,500 people who are being mentored before being released and a year after."
In addition, "a big opportunity exists in what we do with our high school students so they have great-paying jobs .... Close to 30,000 adult basic education students are back in the classrooms to get their high school equivalency (certificates)," and they will also be able to earn certificates through Ivy Tech or Vincennes University.
"With higher education, workforce development and the governor working together, we can collaborate and solve problems in our communities."
In her second day on the job, Blair Milo, Indiana secretary of career connections and talent, said, "It's great to be able to kick off this experience in my life and talk about these new tools in the toolbox .... I look forward to many more conversations of how we can continue to collaborate."
Diane Raver can be contacted at diane.raver@batesvilleheraldtribune.comor 812-934-4343, Ext. 114.