PHILOSOPHY
When we contribute to an organization, we want to ensure the donation aligns with our values, pursues growth within the organization and drives an increased value for our community. This isn't just about giving; it's about engaging. When we choose an organization to contribute to, we look for an opportunity that is community-focused, mutually beneficial and conducive to growth through engagement.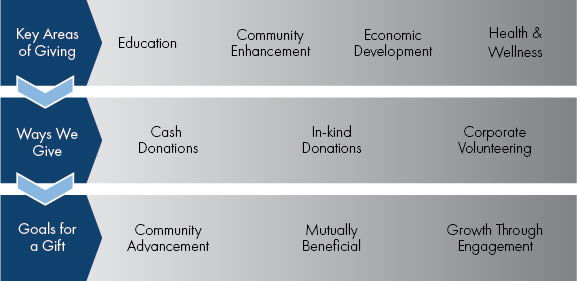 AREAS OF ENGAGEMENT
Hillenbrand's corporate giving are focused on the following areas of engagement:
Education

Workforce Development

Community Enhancement

Health & Wellness
RESTRICTIONS
We strive to cater to specific projects rather than invest money in the administration of an organization. Hillenbrand does not give to the following areas:
Political donation requests (please refer to HIPAC)

Personal donation requests

Sports teams


PROCESS
Submit a donation request form.

Your request will be reviewed by Hillenbrand.

Hillenbrand will contact you regarding your request.


NOTE: Decisions regarding donations are at the sole discretion of Hillenbrand. Please be mindful that not every request can be fulfilled, as resources are limited.