Congressman Joins Hillenbrand, Community Leaders For Volunteer Event At Batesville HS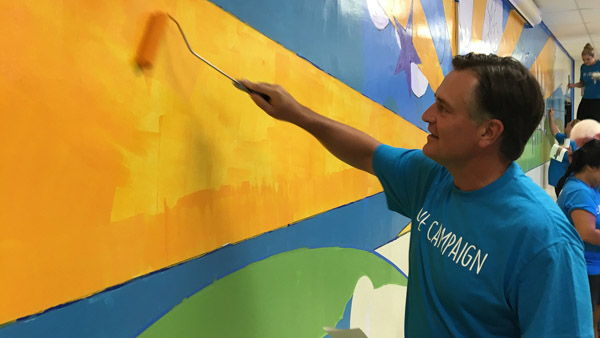 (Batesville, Ind.) – U.S. Rep. Luke Messer (IN-06) joined community leaders and Hillenbrand, Inc. volunteers at Batesville High School on Monday to work on several school infrastructure projects as part of Hillenbrand's "One Campaign" community engagement initiative.
"Today was a great example of community members and business leaders coming together to improve the city," Messer said. "It was inspiring to be among so many Hoosier volunteers willing to donate their time and talents, and I thank Hillenbrand for their leadership. I hope the students and teachers at Batesville High School enjoy the improvements."
Prior to the volunteer event, Messer met with Hillenbrand executives to discuss local workforce needs.
"Hillenbrand's One Campaign efforts contribute to strong communities and deep employee pride. We appreciated the Congressman volunteering alongside our employees and civic leaders today," said Joe Raver, President & CEO, Hillenbrand.
Community leaders including Mayor Mike Bettice, Superintendent Paul Ketcham and State Rep. Cindy Ziemke also joined Rep Messer, Hillenbrand and Batesville Casket Associates for today's "One Campaign" volunteer event.