Community Leadership Series
The Hillenbrand Community Leadership Series (HICLS) engages with key leaders from the company and community in strategic discussions focusing on continuing to build our community into an attractive place to live and work. In FY 2020, the group will have the opportunity to listen to a variety of speakers around the central theme "Building Regional Capacity".
The focus of the class will be expanding thought of how we approach micro-regionalism in rural communities. Over the course of the year, the class will meet four times around a central theme of building regional capacity. Each class will be based around supporting the theme: 1) Why Regionalism Matters 2) Economic Development and Placemaking 3) Asset Mapping 4) Diversity & Inclusion.
Each of our speaker series is partnered with a strategy session where the class will be able to discuss the issues facing our community and begin to develop action items to help strengthen Southeast Indiana.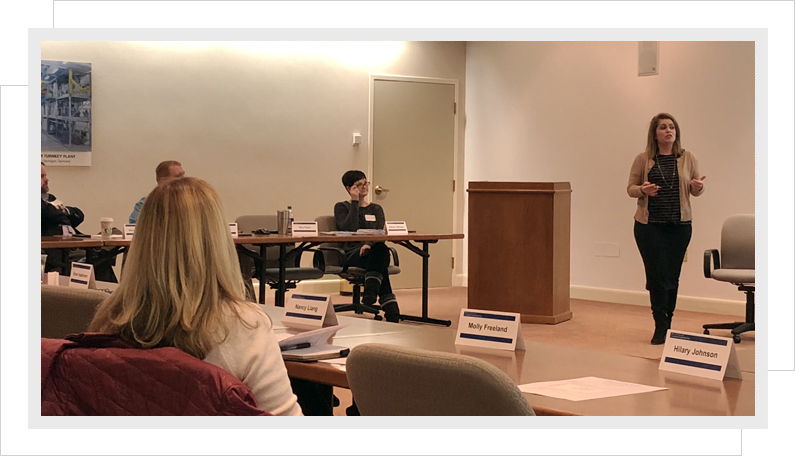 2019/2020 Class - Community Representatives
Danielle Becker - Safe Place
Kelly Bulmer - United Way of Franklin County
Emil Ekiyor - GEO Foundation
Carla Enzinger - Batesville Tool & Die
Curtis Gillman - Gillman Home Center
Garrett Knollman - Transmark Logistics
Kim Linkel - Coalition for a Drug Free Batesville
Shelly Lunsford - Franklin County Community Foundation
Jonathon Maple - Oldenburg Academy
Margaret Marcy - Tyson Library Association
Bryan Robbins - Economic Development Corp. of Greensburg & Decatur County
Paul Satchwill - Batesville Community School Corporation
John Vadeboncoeur - Community Church of Batesville & Greensburg
2019/2020 Class - Company Representatives
Paige Borgman - Hillenbrand
Jeff Gratz - Batesville
Ken Gole - Hillenbrand
Nithya Kumar - Hillenbrand
Karen Mirick - Hillenbrand
Valerie Talkers - Hillenbrand
Justin Uhlman - Hillenbrand
Brandon Wiedeman - Hillenbrand
2019/2020 Class Schedule (Meeting times TBD):
October 4, 2019
February 21, 2020
May 21, 2020
July 30, 2020