Business visionary: Joe Raver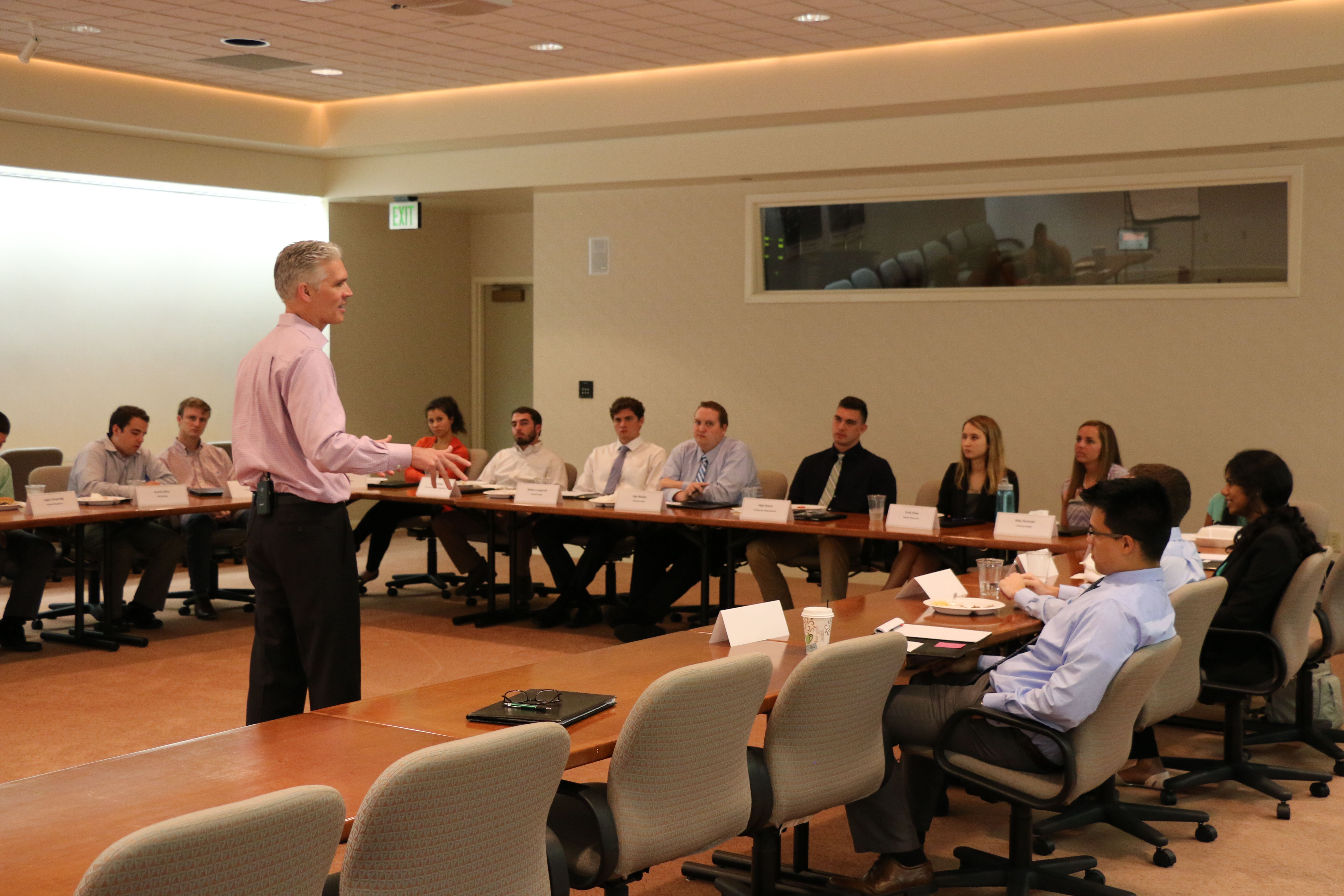 Talk about a growth spurt: Between 2008, when Hillenbrand Inc., headquartered in Batesville, became a publicly-traded company, and 2016, its businesses have grown from one to six and from $650 million to $1.6 billion, according to the website https://www.hillenbrand.com/our-strategy/.
The number of associates has doubled from 3,000 to 6,000 and the once North American company has expanded into a remarkable 40 countries.
At the helm is Joe Raver, who has been Hillenbrand's president and CEO since September 2013.
He points out, "I was born and raised in Batesville. I love the town and appreciate all of the wonderful people here. I feel fortunate to have had the opportunity to come back and raise my children here."
The president details the six companies, starting with the oldest and ending with five companies within the Process Equipment Group, including two acquired under his watch:
• Batesville Casket, headquartered in Batesville, is a leader in the North American death care industry through the manufacturing and sale of funeral services products, including burial caskets, cremation products, selection room display fixturing and technology solutions for funeral homes.
• TerraSource Global, headquartered in St. Louis, Missouri, designs and manufactures high-quality crushing and material handling equipment solutions and replacement parts for the mining, power and forest products markets.
• Rotex, headquartered in Cincinnati, manufactures a full line of screening and separation equipment used in the chemical, processed food, mineral processing, plastic compounding and agribusiness markets.
• Coperion, headquartered in Stuttgart, Germany, manufactures equipment, mostly extruders and pneumatic conveying systems, used in the plastics, chemicals, food, pharmaceutical and mineral industries.
• Abel, headquartered in Büchen, Germany, manufactures highly-engineered, energy efficient positive displacement pumps.
• Red Valve, headquartered in Carnegie, Pennsylvania, is a leader in highly-engineered, mission-critical flow control solutions, manufacturing various types of water valves.
Is he hoping to acquire more? The CEO answers, "We are always looking to grow our business organically and inorganically."
A framework has been created to guide Raver and other Hillenbrand leaders. "In essence, the Hillenbrand Operating Model (HOM) defines how we run the business. It is a consistent and repeatable framework designed to produce sustainable and predictable results for our business. The HOM describes Hillenbrand's mission, vision, values and leader's mindset. It uses our management practices in strategy management, segmentation, lean, talent development and acquisitions. It also prescribes three steps (understand, focus and grow) to make our businesses both bigger and better. Our goal is to continue developing Hillenbrand into a world-class global diversified industrial company. This is something we use across the Hillenbrand enterprise."
He reflects, "My most important responsibility is to set the long-term strategic vision for the company. This includes determining what businesses we are in, how we win in those businesses and how we allocate resources, mainly people and money, across the businesses. It is a very humbling role, and I am fortunate to have a strong team that helps make our business successful.
Past experiences have shaped Raver into becoming a president. "Having the opportunity to run a small business unit at a young age helped me develop leadership skills early in my career, and I'm grateful for that experience. Over the years, I've been given the chance to take on larger and more complicated roles, which further helped me develop my leadership skills. Additionally, I've had a number of great mentors over the years who have helped shape my leadership."
He says two stand out. "Ken Camp, former Hillenbrand CEO, thought more of me than I thought of myself. He had confidence in me and challenged me by giving me stretch assignments, which helped me grow both personally and professionally. Joe Loughery, Hillenbrand's chairman of the board, taught me what it means to be a CEO and the unique responsibilities, sometimes untold responsibilities that come with this role. He also taught me how to lead a global company, set direction for a large organization and how to connect to individuals from very different backgrounds."
Raver adds, "I look forward to continuing to see the growth and development of our people and our businesses across the Hillenbrand enterprise."
Strengths that help him succeed in business: I greatly enjoy learning new things and taking on new challenges. Fortunately, my wife and family have been willing to move frequently, allowing me to take on exciting jobs that have helped me develop professionally. The support of my family throughout all of these opportunities has been key.
Business philosophy: Focus on the critical few things that make a difference.
Best professional achievement: In my role as president of the Process Equipment Group, I was most proud of the acquisition and integration of Coperion into Hillenbrand. It was a major project, and I was proud of our team, who came together to make it happen. A lot of our people put in a significant amount of time and hard work, and it was so rewarding to watch it come to fruition.
Frequent flier: I travel about one-third of the time.
Favorite business destination: Switzerland. I spent two years there as president of the Process Equipment Group. My family and I had the opportunity to understand the culture and community, and I enjoy traveling back there.
Advice for new hires: I like to tell new employees to spend the first 90 days of their job learning and to write down all of their observations and ideas. They can then validate and prioritize their ideas, and execute them over the next couple of years. Capturing ideas while one still has "fresh eyes" can be very powerful, and a new employee's perspective is one I value.
How to get ahead: My advice for anyone wanting a business career is to align their skills and hard work with the right opportunities. Many people are talented and work very hard, but wait for opportunity to come to them. Recognizing and finding new opportunities for professional growth can be very rewarding and accelerate one's career.
Greatest personal challenge: Learning to balance work with my personal life. I think that's something all of us struggle with at some point, but it's important to find that balance.
Top personal accomplishment: Marrying my amazing wife, Anne, and raising our two wonderful sons with her.
Debbie Blank can be contacted at debbie.blank@batesvilleheraldtribune.com or 812-934-4343, Ext. 113.
Getting to know Raver
Town: Batesville
Other past hometowns: New York City; Chicago; Columbus, Ohio; Zurich, Switzerland
Spouse: Anne
Children: Robert, 16; Thomas, 13
Education: Bachelor's degree in economics from Dartmouth College and an MBA in marketing and strategy from the Northwestern University Kellogg School of Management
Previous jobs: Process Equipment Group president, 2011-13; Batesville Casket Co. president, three years; Hill-Rom Respiratory Care Division vice president and general manager, four years; Batesville Casket Co. leadership roles in merchandising, strategy and logistics, 1994-2004
Favorite pastimes: Reading, running, spending time with my family and watching my kids at their basketball games
Organization involvement: National Association of Manufacturers Board of Directors and Manufacturers Alliance for Productivity and Innovation Board of Trustees