Batesville Casket Company to open health center in Manchester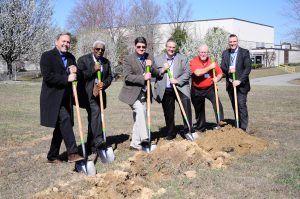 At a ground breaking ceremony held Friday, March 3, Batesville Casket Company in Manchester announced it, along with its parent company, Hillenbrand Inc., would soon be opening a new health and wellness center. The Hillenbrand Health and Wellness Center will provide wellness and primary care at no extra cost to eligible employees, and is expected to open in late summer of this year.
The 7,700 square-foot facility will be operated through a partnership with QuadMed, a provider of employee-sponsored healthcare, and is being built by Brock Construction of McMinnville. The ceremony was attended by Manchester Mayor Lonnie Norman and Coffee County Mayor Gary Cordell, as well as other local dignitaries. Batesville executives, members of the company's local leadership team, and representatives from QuadMed, Brock Construction.
Mary Jo Moody, vice president of human resources for Batesville, said the idea of having a health center on site is that employees can get convenient care without compromising quality.
"As we think about the big challenges we face today as employers and as consumers, health care is at the top of that list. Costs are out of reach for many people, access is becoming more limited and bureaucracy is really driving consumers to think about what are alternatives," Moody said. "As employers, we care about our employees and their families, and we want them to live longer, healthier and more productive lives."
The health and wellness center does not replace traditional health plans, but will be offered as an additional benefit employees and is designed to be used in conjunction with existing health plans, Moody said. The center will offer employees on a company medical plan to schedule appointments, see a doctor and fill prescriptions in less than an hour. Other services include lab tests, wellness exams, immunizations, and weight management and coaching.
"We want to make sure we offer additional services for our employees and their families," Moody said. "All these things are at truly no cost to our employees. As long as you participate in a medical plan, all these services are at no extra cost."
One of the main goals of the wellness center and its convenience is to encourage employees to get regular checkups to prevent potential serious conditions down the road.
"In addition to getting people healthy, we focus on keeping our associates healthy by identifying life-altering medical conditions," Moody said, adding that such an option is attractive for employers, as treatment for more serious conditions are often high. "We found a lot of folks that went in and saw the physician and found out things they didn't know, and these are things we can correct early on. We've had associates who were diabetic or pre-diabetic who are now in a normal state. We've had folks that have gone off their blood pressure medications, their cholesterol medications, all of those things, just by focusing on health and wellness."
The first Batesville Hillenbrand Health and Wellness Center was opened in 2010 at the company's corporate headquarters in Batesville, Ind.
Bob Ratini, chief operating officer for QuadMed, said having an on-site healthcare facility is beneficial to employers as well as workers, helping with issues like absenteeism and increasing overall productivity amongst employees on the job.
"Companies are saying, we need to focus on the health of our employees," Ratini said. "When you've got facilities on site, you can access the doctor and take less time away from work. Accessibility is probably the number one advantage. And the quality of care is improved as well."
Moody said that while the center will be located at the Batesville plant location, other industrial partners may share in the facility to provide healthcare access for their employees as well. Local industries and organizations interested in learning more about the center may contact Jennifer Quadracci, business development relationship manager for QuadMed, at (414) 566-8085.